TOWSON SPORTS MEDICINE
Specializing in Physical Therapy, Towson Sports Medicine Center is the first sports center of its kind in Baltimore, established in 1984 by Baltimore Colts Team Physician and orthopaedic surgeon at Towson Orthopaedic Associates, Dr. Kenneth Gertsen. It features state-of-the-art rehabilitation for all orthopaedic injuries and orthopaedic-related problems. A division of Towson Orthopaedic Associates, TSM specialties include injury treatment programs for athletes of any age, any competitive level, from adolescent to senior, and recreational to Olympic athlete.
TOWSON SPORTS MEDICINE SERVICES
Treating the Injured Athlete

Primary Care Approach

Join us for this one-day course for primary care physicians, physician assistants, certified athletic trainers,

WMAR2 News-Midday Maryland – Towson Sports Medicine

At Towson Sports Medicine, we treat all kinds of orthopedic injuries for patients of all ages. Our comprehensive rehabilitative programs are customized for each

Last Chance for Sports Physicals 8/7/2018

Towson Sports Medicine will be offering pre-participation physicals on Tuesday August 7th from 4pm-6pm at Dulaney High School. 

What: Pre-Participation Sports Physicals

Where: Dulaney High School

255

NEW… After Hours Care!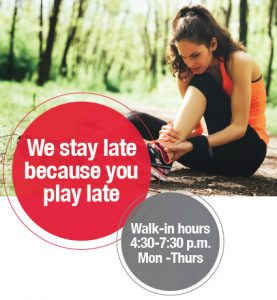 No recent Facebook posts to show