Towson Sports Medicine Center
Bel Air Location
Physical Therapy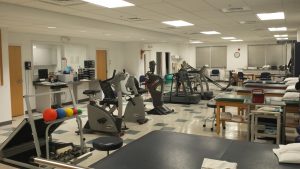 201 Plumtree Rd, Suite 301
Bel Air, MD 21015
Phone: 410-569-8587 (For Physical Therapy calls only)
Fax (410) 569-3551
>> Look for our SIGN off of Route 24 & Plumtree Road.
HOURS
8:00 a.m. – 7:00 p.m. Monday through Thursday
8:00 a.m. – 5:00 p.m. Friday
---
Read what Towson Sports Medicine patients have to say about the Bel Air Towson Sports Medicine location!
Bel Air MD Physical Therapy
★★★★★
"
I had an amazing experience with Abby. She really helped me to reach my potential and was able to challenge me when l needed it most. Thank you, Abby for changing my life!
"
"
I am very pleased with the treatment that i received. I fell on the ice and was concerned about my complete knee replacement surgery, four years ago. Scott Foster was wonderful and answered all my questions and concerns. I had four treatments and did exercises recommended. I have been released and pain free. THANK YOU SO MUCH SCOTT FOR ALL THE HELP. I will recommend anyone to go to Towson Sports Medicine for help with pain.
"
PT After Neck Surgery
★★★★★
"
I worked with Scott Foster at your Bel Air office for about 4 months while recovering from ACDF surgery. He was a knowledgeable, personable, and an all-around good guy. Over these past months I have regained range of motion; my energy level has risen; I am sleeping better; and my neck pain has been reduced. I would certainly encourage anyone recovering from neck surgery to give Towson Sports Medicine - and Scott in particular, a try!
"
---
CLICK TO READ MORE REVIEWS or to tell us about YOUR TSM experience.