Towson Sports Medicine Center
Bel Air Location
Physical Therapy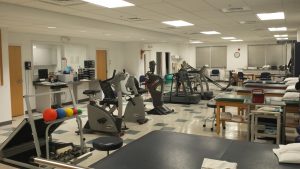 201 Plumtree Rd, Suite 301
Bel Air, MD 21015
Phone: 410-569-8587 (For Physical Therapy calls only)
Fax (410) 569-3551
>> Look for our SIGN off of Route 24 & Plumtree Road.
HOURS
8:00 a.m. – 7:00 p.m. Monday through Thursday
8:00 a.m. – 5:00 p.m. Friday
---
Read what Towson Sports Medicine patients have to say about the Bel Air Towson Sports Medicine location!
"
At 77 years young this is the best physical therapist place in Hartford county and Scott is the best - can't say anymore,
"
"
After shoulder surgery Abby got me back to better than I have been in a long time. She did a great job.
"
My experience with Abby was amazing!!!
★★★★★
"
I'm a Category 2 (USA Cycling) Road Racer who crashed during training on March 3rd. I suffered a complete collar bone joint tear (grade 3 AC separation). I thought my season was over but Abby worked with me and helped me get back on the podium at the Bike Jam Kelly Cup Criterium in Baltimore on May 20th. Thanks Abby!!!
"
Bel Air Physical Therapy - Dan Schindler
★★★★★
"
My experience at Towson Sports Medicine was exceptional! My physical therapist, Dan Schindler, went above and beyond to ensure I received the best care possible. I greatly appreciated the friendly, welcoming atmosphere and dedication to patient care from the staff. Thanks to Dan I am pain free! Thanks again! 🙂
"
Dan Schindler, Bel Air Physical Therapy
★★★★★
"
Dan Schindler at Towson Sports Medicine has been the best. After a knee replacement and car accident one after the other, TSM has gotten me back on my feet. They ALL have been professional and positive, making sure everything is on pace to proper healing. Thanks, Ray W.
"
Physical Therapy Bel Air MD
★★★★★
"
I recently received Physical Therapy at TSM Bel Air for lower back pain. The office staff and P.T. assistants were efficient and courteous. The wonderful care and professional guidance by Dan Schindler PT was very appreciated. Dan is friendly, caring and encouraging. His actions demonstrates that he is committed to providing exceptional patient care. My lower back pain is gone and I can move freely. Thanks Dan!
"
---
CLICK TO READ MORE REVIEWS or to tell us about YOUR TSM experience.