Read what Towson Sports Medicine patients have to say about TSM Athletic Training Services!
Gina is the Best Athletic Trainer
★★★★★
"
Gina (Legaluppi) was amazing when I hurt my knee! She helped me recover as quick as possible and it worked! Gina is always there and helpful any time I need her! We are so lucky to have her at Beth Tfiloh!
"
Concordia Prep School Athletic Trainer
★★★★★
"
Caroline Siebens is a phenomenal Athletic Trainer. She continuously goes above and beyond for the students she treats and cares for. Concordia is lucky to have her!
"
"
I have enjoyed having Jenna as my athletic trainer. She really cares about everybody at Mercy High School! -- Grace B.
"
Mercy High School Athletic Trainer
★★★★★
"
Jenna (Hickman) has been very helpful to me after I injured myself during softball season. Mercy is very luck to have her!
"
---
Read MORE reviews as they become available by visiting the individual athletic trainer pages (see menus above or lists below) or CLICK to tell us about YOUR TSM experience.
---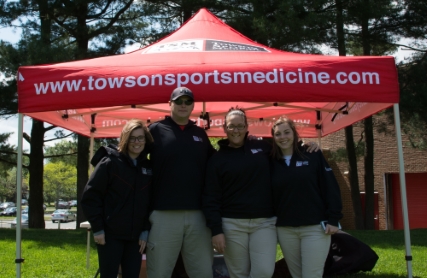 An athletic trainer is an expert at recognizing, treating and preventing musculoskeletal injuries. Athletic trainers meet qualifications set by the Board of Certification, and adhere to the requirements of a state licensing board. Athletic Trainers practice under the direction of a physician and are members of a health care profession recognized by the American Medical Association.
Our Certified Athletic Training Staff:
. . . . . . . . . . . . . . . . . .
Click here for  Board Certified High School Team Physicians.
TO speak with a certified athletic trainer about a sports injury, call:
. . . . . . . . . . . . . . . . . .
Please check out the National Athletic Trainers Association website at: www.nata.org.
Towson Orthopaedic Associates and Towson Sports Medicine are proud sponsors of the IAAM, Interscholastic Athletic Association and its 30 member schools. Read more about us in area NEWS publications:
CERTIFIED ATHLETIC TRAINERS (Coverage)
 
 
Chelsea Klein
Maryvale Preparatory High School
Baltimore, MD
Jenna Hickman
Mercy High School
Baltimore, MD 
Anna Neunaber
Perry Hall High School
Perry Hall, MD
Bryan Read
Dulaney High School
Cockeysville, MD
 
Gina Legaluppi
Beth TFiloh School
Pikesville, MD
Caroline Siebens
Concordia Preparatory School
Baltimore, MD
Erin McGovern
Towson High School
Towson, MD

Tyrone Turner
Loch Raven High School
Towson, MD
OUR SCHOOL TEAMS