Read what Towson Sports Medicine patients have to say about TSM Aquatic Therapy Services!
Aquatic Therapy - Bellona Ave Location
★★★★★
"
For the last twenty years I have been swimming/exercising in the wonderful warm water of the Towson Sports pool once or twice a week, and I am able to function with my severe arthritis because of it! In addition, several times over the years I have needed the expertise and equipment provided in the gym to help me get through various attacks and ailments. The staff is very well qualified, friendly, and helpful. I would be happy to answer any questions.
"
---
CLICK TO READ MORE REVIEWS or to tell us about YOUR TSM experience.
---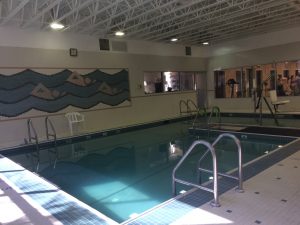 Aquatic Therapy is an excellent form of treatment to aid patients with increasing mobility, strength, and flexibility due to the buoyant properties of the water. Many different aquatic exercise programs can be designed, from programs for post physical therapy patients to chronic pain sufferers, as well as for those looking to lose weight and gain fitness.
Commonly recommended by a therapist after an evaluation, Aquatic Therapy is supervised by physical therapists trained in aquatic exercise. 
Aquatic Therapy is available ONLY at our Towson "Bellona" location. For more information, call 410-337-8847.