Towson Sports Medicine Center ("Bellona")
Physical Therapy, Aquatic Therapy
Ruxton Professional Center, Suite 100


8322 Bellona Avenue
Towson, MD 21204
Phone: (410) 337-8847 (Physical Therapy calls only)
Fax (410) 337-5189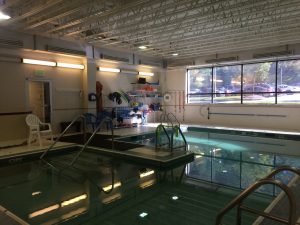 Click here for driving directions
HOURS
6:30 a.m. – 7:00 p.m. Mon. through Thurs.
6:30 a.m. – 5:00 p.m. Friday
7:45 a.m. – 1:15 p.m. Saturday
---
Read what Towson Sports Medicine patients have to say about the Bellona Avenue location!
Greg E. - Stenosis Support
★★★★☆
"
I am trying to avoid surgery for spinal stenosis and also maintain my activity level . Greg was very helpful in identifying areas of core weakness and coaching me through strengthening exercises. I gained strength that helped with prevention of symptom worsening and also gained strength that helped with my sport. Got a good home program for maintenance of gains too.
"
Kelly is AWESOME!!!
★★★★★
"
Kelly, you have no idea how much you have helped Julie and me. We'll be forever grateful for your expertise, kindness and encouragement. I'm sorry that I didn't get to see you on my last day there, but I wanted you to know how much we appreciate you. THANK YOU KELLY!!! Eric and Julie Schuetz
"
They know what they are doing
★★★★★
"
Gabe and the team helped myself and my wife after a accident that left a laundry list of injuries. They were knowledgeable and really the driving force in our healing process. Could say enough goof things about Gabe
"
"
Had a frozen shoulder just after the new year. Emma Ardolino was the most caring PT. She explained and/or showed me my treatments before starting my therapy. She manages time very well as she worked on numberous patients and monitored all of their timed individual therapies. I am very pleased and I still complete the home excerises. Thanks.
"
Physical Therapy Towson Sports Medicine
★★★★★
"
I had two knee replacements at St. Joseph's U of MD within a year. The PT's at Towson Sports Medicine have done a fantastic job in guiding my full rehabilitation to the point where I am walking normally, riding my bike and back to a full schedule at work. The staff, from the front desk associates, who are friendly and work with patients to set up schedules that work for them, to the interns and full-time PT staff, couldn't be more professional and nurturing to their patients. I highly recommend Towson Sports Medicine,
"
Great - Alyssa Hixon
★★★★★
"
Everyone was knowledgable, caring and efficient. But Alyssa was the best.
"
Shannon Rock Hand Therapy
★★★★★
"
Shannon has helped me successfully reach my goals and return to basketball. Thank you for all your help!
"
"
When I had shoulder surgery Jason and the rest of the TSM staff worked to help me get back to baseball. Would highly recommend TSM to anyone who needs rehab.
"
Aquatic Therapy - Bellona Ave Location
★★★★★
"
For the last twenty years I have been swimming/exercising in the wonderful warm water of the Towson Sports pool once or twice a week, and I am able to function with my severe arthritis because of it! In addition, several times over the years I have needed the expertise and equipment provided in the gym to help me get through various attacks and ailments. The staff is very well qualified, friendly, and helpful. I would be happy to answer any questions.
"
---
CLICK TO READ MORE REVIEWS or to tell us about YOUR TSM experience.