Towson Sports Medicine Center ("Bellona")
Physical Therapy, Aquatic Therapy
Ruxton Professional Center, Suite 100


8322 Bellona Avenue
Towson, MD 21204
Phone: (410) 337-8847 (Physical Therapy calls only)
Fax (410) 337-5189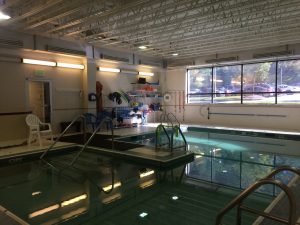 Click here for driving directions
HOURS
6:30 a.m. – 7:00 p.m. Mon. through Thurs.
6:30 a.m. – 5:00 p.m. Friday
7:45 a.m. – 1:15 p.m. Saturday
---
Read what Towson Sports Medicine patients have to say about the Bellona Avenue location!
"
Had a frozen shoulder just after the new year. Emma Ardolino was the most caring PT. She explained and/or showed me my treatments before starting my therapy. She manages time very well as she worked on numberous patients and monitored all of their timed individual therapies. I am very pleased and I still complete the home excerises. Thanks.
"
Physical Therapy Towson Sports Medicine
★★★★★
"
I had two knee replacements at St. Joseph's U of MD within a year. The PT's at Towson Sports Medicine have done a fantastic job in guiding my full rehabilitation to the point where I am walking normally, riding my bike and back to a full schedule at work. The staff, from the front desk associates, who are friendly and work with patients to set up schedules that work for them, to the interns and full-time PT staff, couldn't be more professional and nurturing to their patients. I highly recommend Towson Sports Medicine,
"
Great - Alyssa Hixon
★★★★★
"
Everyone was knowledgable, caring and efficient. But Alyssa was the best.
"
Physical Therapy Towson
★★★★★
"
After knee surgery in October and November, I experienced several weeks of therapy with your teams, mostly with Alyssa and Derek and their aides. I want to commend them all for their patience and thoroughness with me. I have made a good recovery along with their hard work and encouragement. Kathleen L., MHSH
"
Shannon Rock Occupational Therapy
★★★★★
"
Shannon has helped me successfully reach my goals and return to basketball. Thank you for all your help!
"
Kudos to Kelly and the TSM Staff!
★★★★★
"
Following recent knee surgery, I have Kelly and the entire staff of TSM to thank for my rapid rate of recovery. Kelly led the way with expert advice and care, while the staff supported her plan by helping me with scheduling, workout routines, and activity setups. Thanks to all of you; your 5 stars are well-deserved. I'll miss seeing my friends at TSM! Elden
"
Great Experience with Kelly
★★★★★
"
I just finished 8 weeks of rehab for my total knee replacement. My experience with Kelly and the entire TSM staff was EXCEPTIONAL!, Wonderful professionals. Great care!! I recommend TSM highly.
"
"
When I had shoulder surgery Jason and the rest of the TSM staff worked to help me get back to baseball. Would highly recommend TSM to anyone who needs rehab.
"
Physical Therapist Jason Shipley
★★★★★
"
The front desk staff as well as the PT staff is awesome. Special Kudos to Brittany at the desk for always scheduling my appointments in a timely fashion and JASON. He's the man.
"
Aquatic Therapy - Bellona Ave Location
★★★★★
"
For the last twenty years I have been swimming/exercising in the wonderful warm water of the Towson Sports pool once or twice a week, and I am able to function with my severe arthritis because of it! In addition, several times over the years I have needed the expertise and equipment provided in the gym to help me get through various attacks and ailments. The staff is very well qualified, friendly, and helpful. I would be happy to answer any questions.
"
---
CLICK TO READ MORE REVIEWS or to tell us about YOUR TSM experience.