Towson Sports Medicine Center ("Bellona")
Physical Therapy, Aquatic Therapy
Ruxton Professional Center, Suite 100


8322 Bellona Avenue
Towson, MD 21204
Phone: (410) 337-8847 (Physical Therapy calls only)
Fax (410) 337-5189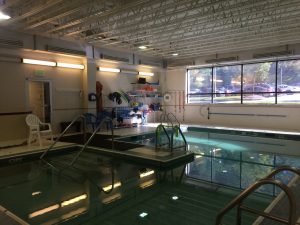 Click here for driving directions
HOURS
6:30 a.m. – 7:00 p.m. Mon. through Thurs.
6:30 a.m. – 5:00 p.m. Friday
7:45 a.m. – 1:15 p.m. Saturday
---
Read what Towson Sports Medicine patients have to say about the Bellona Avenue location!
Physical Therapy Towson
★★★★★
"
After knee surgery in October and November, I experienced several weeks of therapy with your teams, mostly with Alyssa and Derek and their aides. I want to commend them all for their patience and thoroughness with me. I have made a good recovery along with their hard work and encouragement. Kathleen Lehner, MHSH
"
Shannon Rock Occupational Therapy
★★★★★
"
Shannon has helped me successfully reach my goals and return to basketball. Thank you for all your help!
"
Great Experience with Kelly
★★★★★
"
I just finished 8 weeks of rehab for my total knee replacement. My experience with Kelly and the entire TSM staff was EXCEPTIONAL!, Wonderful professionals. Great care!! I recommend TSM highly.
"
"
When I had shoulder surgery Jason and the rest of the TSM staff worked to help me get back to baseball. Would highly recommend TSM to anyone who needs rehab.
"
Physical Therapist Jason Shipley
★★★★★
"
The front desk staff as well as the PT staff is awesome. Special Kudos to Brittany at the desk for always scheduling my appointments in a timely fashion and JASON. He's the man.
"
Aquatic Therapy - Bellona Ave Location
★★★★★
"
For the last twenty years I have been swimming/exercising in the wonderful warm water of the Towson Sports pool once or twice a week, and I am able to function with my severe arthritis because of it! In addition, several times over the years I have needed the expertise and equipment provided in the gym to help me get through various attacks and ailments. The staff is very well qualified, friendly, and helpful. I would be happy to answer any questions.
"
---
CLICK TO READ MORE REVIEWS or to tell us about YOUR TSM experience.