January 31st, 2018
Towson Sports Medicine and Baltimore Union SC teamed up earlier this year to provide the members of the club and their families' access to comprehensive sports medicine services to those participating in youth sports.  Towson Sports Medicine provides athletic training services at club events, a large referral network of sports medicine physicians and therapists, and educational programming for players and families alike.  

When asked about the importance of partnering with a group like TSM, Mike Griffith, Director of Coaching for Baltimore Union Soccer Club answered: "I believe that our relationship with TSM is a large part of one of our biggest goals which is to enhance the player experience as well as provide our club members with additional resources to promote development. Our relationship with TSM provides our players and coaches with the educational support and resources to help our athletes and coaches perform at the highest level on the field."
Brian Perez, Head Athletic Trainer, Coordinator of Outreach and Dr. Sarah Hobart will be holding a Q&A session during training as CCBC Essex on Thursday 2/15/2018 from 6:30-7:15pm and 7:30-8:15pm.
Dr. Hobart has been involved in the game of soccer as a player, coach and physician.  She played collegiate soccer and Davidson College, coached the women's team at Columbia, and served as team physician for both the USMNT, USWNT, LA Galaxy, Peprerdine University, New York University and numerous high school teams.  She will be serving as the team physician for FC Baltimore as they join the NPSL this year.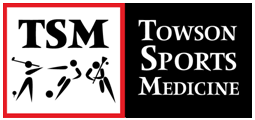 Brian and Sarah will be discussing comprehensive services offered at TSM's newest facility in Rosedale and will be happy to answer any sports medicine related questions parents, coaches, or athletes may have.